Transfer Trapani San Vito Lo Capo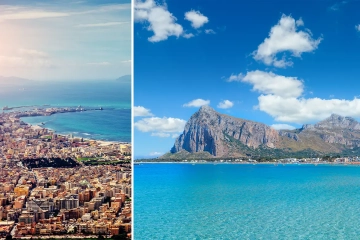 Among the most evocative and envied destinations of western Sicily, there is the beautiful seaside resort of San Vito lo Capo, a gem set between the Zingaro Nature Reserve and the wonderful Gulf of Macari. To visit this location we offer a comfortable Transfer from Trapani to San Vito lo Capo, which will take you from the city to the most beautiful beaches in Sicily.
Getting around from Trapani is very simple, as it connects perfectly with many other cities and with all the surrounding areas. To reach San Vito it is about 40km and in 40 minutes you will arrive at your destination, with a wonderful view of the Sicilian coast that will accompany you during the journey
What to see in San Vito Lo Capo?
San Vito lo Capo offers many attractions to visit during your stay. But we advise you not to miss some of these in particular!
Shortly before reaching the town of San Vito, you will find a lay-by, namely the Belvedere di Macari. From there you can admire the entire gulf from above with Baia Santa Margherita, the Bue Marino, Isulidda, framed by the mighty Monte Cofano. At any time of the day you decide to stop, you can admire its beautiful colours and unique landscapes. A little further on you will also see the Chapel of Santa Crescenzia , wrapped in a veil of mystery and legend that make this stop indispensable.
Once in the town you can visit the square, where you can admire the Sanctuary of San Vito Martire, one of the first buildings built in the city and whose legend is linked to that of the Chapel of Santa Crescenzia. Continuing on the central Via Savoia, full of shops and restaurants where you can eat local dishes, you will reach the city beach, an expanse of 4 km of golden sand bathed by clear waters and a blue crystalline color.
Also worth a visit are the Lighthouse, which for years has protected the ships from the rocky bottoms that are located a little further offshore, and also the Tonnara del Secco, now in disuse, but which still preserves the traces and memories of a traditional and historical work such as the Slaughter of tuna.
You will be spoiled for choice on what to see first!
Ready to go? Book your transfer now! Book
How long does it take to visit San Vito lo Capo
San Vito lo Capo is wonderful, and not only for what it offers on its territory, but also for all the natural beauties that you will find in the surroundings.
To be able to fully experience it, we recommend a stay of at least 3 days, to fully sightsee and intensely enjoy every moment spent on this earthly paradise.
During these 3 days, in addition to seeing the city beach , the sanctuary and the historic centre, you can visit the wonderful Zingaro Nature Reserve, which offers a 7 km Trekking route with 7 wonderful coves following one another, such as Cala dell ' Uzzo, Cala Tonnarella dell'Uzzo, Cala Marinella, Cala Berretta, Cala della Disa, Cala del Varo and Cala Capreria. If you are not a lover of long walks, they also organize several mini-cruises, making several swimming stops in the most beautiful ones, reaching as far as Scopello.
Another noteworthy destination is Castellammare del Golfo, with its Guidaloca beach, known for the beauty of the seabed and for the well-equipped coast full of excellent restaurants.
Last but not least, we recommend that you visit Scopello, a small, very ancient village protected by its mighty sea stacks.
What to eat in San Vito lo Capo
Sicily is the land of the sea but also of excellent cuisine, so during your stay, you will have to try some of the best delicacies that this land offers .
First of all you can taste a plate of Cous Cous, since it is no coincidence that San Vito lo Capo hosts the world festival of this dish. Secondly, the Ravioloni di Ricotta, with this fresh cheese purchased from our local pastures.
Another amazing dish is the sweet and sour tuna flavored with white onions and the Pasqualora sausage, added to tomato sauce to make an excellent pasta dish. Primo Sale cheese, often used to season Pane Cunzato, is also a delicacy not to be missed!
Finally, to put the icing on the cake, we recommend caldo freddo, ice cream with cream and a loaf of sponge cake soaked in Rum.
The cost for your private transfer from Trapani to San VIto Lo Capo is starting from 90,00 €
Don't know what activities to do during your holiday?
Book a wonderful excursion in Sicily today
Why book with Sorrentino Transfer
Support 24hrs, 7 days a week
Free cancellation up to 24h before
Instant booking confirmation
Do you need help?
For any questions or for information and reservations, do not hesitate to contact us addresses, we will be happy to help you!