Excursion Erice and Segesta
To take a step back in time and see the history of western Sicily up close, we recommend a splendid excursion to Erice and Segesta. Two wonderful destinations during your holidays you mustn't miss.
Erice is the small medieval village where time has stopped, with a veil of mystery and legend that echoes in the streets. The only sounds you will hear are those of nature and the voices of the elderly who live on the summit. It is located in the Municipality of Trapani and can be reached quite easily.
Segesta, on the other hand, is located in the municipality of Calatafimi, a little further away, and was an ancient Elymian city built on Monte Barbaro.
With a comfortable excursion, you will be able to visit them both in the same day, with a full immersion into Sicilian culture.
Itinerary excursion to Erice and Segesta
During our excursion we will divide the itinerary as follows.
Departure from Piazza Francesco Pizzo in Marsala at 10:00 am
Departure from Piazza Vittorio Emanuele in Trapani at 10:30 am
Based on your needs, you can decide which of the two cities to leave from.
arrival in Segesta at 11:00am
Autonomous visit of the archaeological park for the duration of 1 hour and a half
Departure towards Erice summit at about 12:30 pm
Expected arrival in Erice summit at 1:30 pm
Autonomous visit of the city for about 4 hours
Expected return to Trapani at 6:00pm
Expected return to Marsala at 6:30pm
Entrance fees, guides, meals and drinks are not included in the price.
Ready to go? Book your excursion now! Book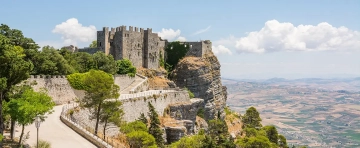 What to see in Erice
First of all, we suggest you stop anywhere in the village with your eyes closed and take in the fresh air, the silence and the smell of nature.
Erice is famous for many reasons, including its enchanting village, which offers priceless landscapes on the Gulf of Trapani, the Valderice valley and the Egadi Islands in the distance.
During your excursion we recommend visiting the Cathedral and the Tower of King Federico, where you can climb the 110 steps and admire Erice from an even higher point. Also not to be missed is the majestic castle of Venus , which overlooks the Trapani countryside and which was once used as a place of worship devoted to female divinities such as Astarte, Aphrodite, Venus and finally the Virgin Mary.
Walking through the streets of the town you will see the Cyclopean walls, with a particular structure, as they were first built by the Elymians to defend the city from invaders, but were later modified to allow the Phoenician workers, the Cyclops, from which the name hangs, to work nimbly. Among these streets you can stop to observe and buy local crafts, packed with hand-woven ceramics and fabrics , or even savor the sweet taste of a Genovese, a typical Erice dessert made of shortcrust pastry and custard.
Erice also hosts the "Ettore Maiorana" scientific research center, a scientific organization founded in 1963 by the physicist Antonino Zichichi. A beauty to be discovered.
What to see in Segesta
What makes Segesta so magical is its archaeological park, a combination of history, sites and local culture .
It was built by the "Etruscans of Sicily", the mysterious people of the Elimi, who settled in 1,000 BC and who made Segesta their centre of economic, administrative and political life, a place for the people and for culture.
Among the main attractions within the site is the Greek Tempo, also called the "Great Temple", one of the longest-lived structures built in the fifth century BC. Some think that the work remained unfinished, others that it was intentional, others still they think that the missing parts were built in wood, and therefore have been lost over the centuries. However, it is likely that it was originally a religious building.
Another characteristic element is the Hellenistic Theatre of Segesta, built between the 4th and 2nd centuries BC, set like a precious gem on Mount Barbaro and which will allow you to be a spectator not only to the works reproduced centuries ago, but also to a breathtaking landscape. This theatre is still in operation today.
Also worth visiting is the Sanctuary of Contrada Mango, discovered more recently, which despite being mostly destroyed, manages to take you back in time through imagination.
The excursion to Erice and Segesta costs from 180,00 €
Don't know what activities to do during your holiday?
Book a wonderful excursion in Sicily today
Why book with Sorrentino Transfer
Support 24hrs, 7 days a week
Free cancellation up to 24h before
Instant booking confirmation
Do you need help?
For any questions or for information and reservations, do not hesitate to contact us addresses, we will be happy to help you!