Excursions to Selinunte and Segesta
If you are planning your holidays in Sicily, we advise you to plan an excursion to Selinunte and Segesta so as not to miss the two most popular archaeological parks in Sicily.
Selinunte was an ancient Sicilian city and takes its name from sélinon, the Greek word for celery, which grew prosperous on this land becoming the symbol of the city's coinage. Although this historical pearl lived for a few years, about 240, its population also reached 100,000 inhabitants.
It was founded in 650 BC between the Modione valley and the Belice valley, the coast of the Mediterranean Sea, almost confining the territory occupied by the Carthaginians. Little by little it managed to expand, also founding Heraclea Minoa in 570 BC at the mouth of the Platani river. This expansion made it reach its maximum internal splendor in the 6th and 5th centuries BC, which unfortunately did not last long.
At the beginning it enjoyed excellent relations with Carthage and formed an alliance with Syracuse, to which it always remained faithful, but its resourcefulness brought with it its own destruction. The attempt to reach Segesta caused several battles in which the latter came out victorious, but to ensure that this did not happen again, Segesta itself asked for help from Athens, which first attacked Syracuse, Selinunte's ally, losing miserably.
Then Segesta asked for help from Carthage, which took the city of Selinunte by surprise and it fell before aid from Syracuse or Agrigento could arrive. The rich and powerful Selinunte was sacked and destroyed, killing 16,000 citizens, making 5,000 slaves and only 2,600 managed to escape by finding shelter in Agrigento.
Unfortunately from that moment, despite small periods of recovery, it was the end of the history of Selinunte, which was officially destroyed by the earthquake in the Byzantine era.
Segesta was instead an Elymian city, inhabited since the 9th century BC. It is said that Trojan refugees founded Segesta in Erice, taking the name of elimi, who moving and conquering new lands, reached the current geographical position of Segesta.
It was very successful politically, so much so that in 260 BC it allied itself with Rome during the First Punic War which ensured protection from Carthage 's attempt to besiege it.
It was destroyed in the fifth century, only to be rebuilt in the following one, regaining its fame and importance over the years.
Ready to go? Book your excursion now! Book
Segesta and Selinunte excursion itinerary
During our excursion we will divide the itinerary as follows:
Departure from Piazza Francesco Pizzo in Marsala at 9:00 am
Departure from Piazza Vittorio Emanuele in Trapani at 9:30
Based on your needs, you can decide which of the two cities to leave from.
Expected arrival in Segesta at 10:00 am
Visit of the Temple of Segesta for 1 hour and a half
Departure towards the Archaeological Park of Selinunte
Arrival expected at 12:30 pm
Free lunch in Selinunte for 1 hour and a half
Visit of the Archaeological Park at 2.00 pm
Expected return to Trapani at 6:30pm
Expected return to Marsala at 6:00 pm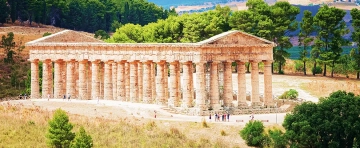 Where are Segesta and Selinunte
Segesta and Selinunte both rise in the province of Trapani, in wonderful western Sicily.
Segesta is located on the north side, in the municipality of Calatafimi, a few kilometers from Alcamo and Castellammare del Golfo. Historically it stood on the mighty Monte Barbaro.
To reach Segesta from Palermo it 's 80 km away, and about 1 hour's drive; from Trapani it's 35 km away taking 30 minutes, and 50km from Marsala taking 45 minutes.
Selinunte, on the other hand, is located on the southern side, in the municipality of Castelvetrano.
The trip to Selinunte from Palermo is 100 km long, taking 1 hour and 30 minutes, from Trapani it is about 90 km taking 1 hour and 15 minutes, and leaving from Marsala it is 55 km away taking 1 hour.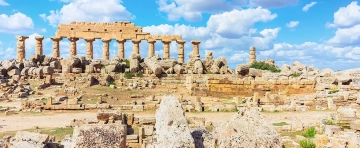 What to see in Selinunte
The Selinunte Archaeological Park is the oldest site in all of Europe, as well as being among the largest of its kind. The park is divided into seven distinct areas that we recommend you visit.
During your Selinunte excursion you will find a defined route, abounding in temples and remains of this civilization.
In the centre you will find the Acropolis, the main area of the complex and the last to have been inhabited, made up of many fortifications to defend the Vandals, the Carthaginians or the Segestani. Proceeding you can visit the Manuzza Hill with the remains of the ancient town, the Gaggera Hill which houses the Sanctuary of Malophoros and the Eastern Hill, which houses other small temples.
To conclude the tour, we recommend that you visit the Necropolis, which with its urban architecture of centuries BC will show you how death lived in those times.
How much is admission to Archaelogical Park of Selinunte?
The Selinunte Archaeological Park is open every day from 9 to 18.
To access it, you need to buy a ticket for €6 per person, with discounts of €3 . Every first Sunday of the month and up to 18 years of age, entry is free.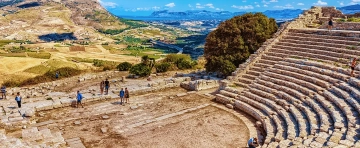 How long does it take to visit Segesta?
The archaeological park of Segesta can be visited very easily.
You can spend as long as you want, focusing on the details you prefer or giving yourself a moment to imagine the life of the people who once walked the same ground, but without cars, phones or jeans.
Visiting the Greek Temple, the amphitheater, the Sanctuary, the walls, the fortified gate and other remains inside the site will take an hour and a half.
The excursion to Segesta and Selinunte has a cost starting from 300,00 €
Don't know what activities to do during your holiday?
Book a wonderful excursion in Sicily today
Why book with Sorrentino Transfer
Support 24hrs, 7 days a week
Free cancellation up to 24h before
Instant booking confirmation
Do you need help?
For any questions or for information and reservations, do not hesitate to contact us addresses, we will be happy to help you!