Transfer San Vito Lo Capo Favignana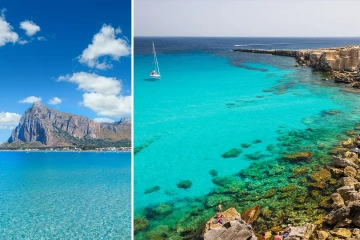 Every year thousands of tourists come to Sicily to visit its wonderful beaches, for days of total relax and nights of fun. Among the most popular destinations is Favignana, one of the Egadi Islands that welcomes many visitors every year by offering priceless natural wonders. To visit this splendid island we offer a comfortable Transfer San Vito lo Capo- Favignana, which will accompany you from the seaside resort to the embarkation for the islands at the port of Trapani.
San Vito lo Capo is a wonderful village, which offers beaches and services of all kinds, suitable for any type of holiday, and its geographical position allows you to move easily, reaching all the most important sites. It is about 38km long and in 50 minutes you will arrive at your destination, with a wonderful view of the coast and the Sicilian hinterland that will accompany you during the journey
How to get from Trapani to Favignana
Reaching Favignana is really very simple, since it will be sufficient to arrive at the port of Trapani , where you will immediately find the boarding points for the Egadi Islands. In front of the hydrofoils, a large ticket office will welcome you, so you can buy your ticket hassle-free and without any difficulty. You will also find an info point, where you can ask for any type of information.
Ferries and hydrofoils run up to 15 times a day, thus covering all time slots and accommodating everyone's needs. Furthermore, the crossing does not last long, depending on your needs.
The hydrofoil allows you to arrive in just 30 minutes , the cost of the ticket is a little higher but you will not be able to take anything too bulky with you, let alone a vehicle. The ferry, on the other hand, takes just under an hour to get to the island, the ticket costs a little less and you can take your car, bike or scooter with you .
Ready to go? Book your transfer now! Book
What is Favignana famous for?
Favignana is known for its beautiful beaches, many of which each year rank as the most beautiful in Italy and also in the Top 10 in all of Europe . Its fame, however, is not just due to this.
In 1800 the Florio family bought the tuna traps of Favignana and Formica, expanding and improving the factories and inventing the revolutionary method of preserving tuna in oil after boiling and canning . It was precisely this that made this island very famous.
Since 1969 the practice of tuna slaughter has been abolished, but the now former Florio factory has become a real museum where it is possible to admire this ancient practice up close with the old tuna production and conservation rooms.
How long does it take to visit Favignana
It is really very difficult to quantify the time needed to visit the whole island of Favignana. We could say that there is no minimum or maximum time, also because, little by little as you discover the island, you will realize how many details and beauties it has preserved for centuries.
With a daily excursion, you will be able to see the town centre and the most beautiful coves, such as Cala Azzurra , Cala Red and the Ox Marino , all on the same side.
But in order not to miss any of the coves nor the spectacular views they offer, we recommend a stay of two or three days, in which you will be able to take full advantage of your days and gradually visit everything.
Regardless of how many days your stop in Favignana may last, every time you return, you will be able to grasp new details that will make your excursion magical
When is it better to go to Favignana
We can say that this small island is beautiful all year round, in summer for the beaches, in autumn and spring for nature and in winter for quiet, silence and peace.
But the best period is undoubtedly the months of May, June , July, August and September, when the sea is very calm, so you will be able to reach the island without storms, and you will be able to experience the beaches and the quiet that only the Egadi can offer.
The transfer from San Vito Lo Capo to Favignana has a cost starting from 90,00 €
Don't know what activities to do during your holiday?
Book a wonderful excursion in Sicily today
Why book with Sorrentino Transfer
Support 24hrs, 7 days a week
Free cancellation up to 24h before
Instant booking confirmation
Do you need help?
For any questions or for information and reservations, do not hesitate to contact us addresses, we will be happy to help you!