Transfer Palermo Marsala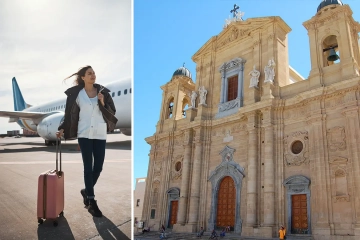 One of the most beautiful cities to visit in western Sicily is the beautiful town of Marsala, famous for its homonymous fortified wine and for its rich salt pans. To visit this beautiful town we offer a comfortable Palermo Marsala Transfer, which from Palermo airport will take you to the city of Marsala.
Palermo airport is the closest airport together with Birgi airport, which allows you to reach Marsala quickly and easily. They are about 100 km and in 1 hour and 15 minutes you will arrive at your destination, with a wonderful view of the Sicilian hinterland that will follow you throughout the journey
What to see in Marsala
Marsala is a city full of history and architectural wonders, with ancient and majestic buildings. Among the main attractions we recommend you to visit the Church Madre, the mighty Cathedral that you can visit in the central square of the city, Piazza of the Repubblica, the heart of the city life of the past and present. We recommend visiting the Church of the Purgatory, whose baroque style and fountain at the entrance will amaze you.
Going forward, you will see Porta Garibaldi, one of the gateways to the city, which features a crowned eagle and a small terrace, which once could be climbed to check for the arrival of any guests or invaders. Also worth seeing is Porta Nuova, the most famous of the doors, a stone's throw away from the Teatro Impero.
Worth visiting are the Salinas of the Lagoon of the Riserva dello Stagnone , with an evocative panorama of salt pans, its basins, the wonderful mills and ponds. Also within the Reserve, we recommend you visit Mozia, or Mothia , on the island of San Pantaleo, an ancient Phoenician city once used as a landing point.
This and much more awaits you during your visit to Marsala.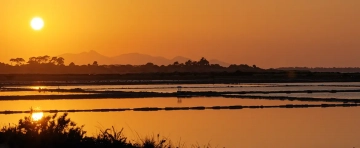 Ready to go? Book your transfer now! Book
What to eat in Marsala
Among the most sought after delicacies in Marsala we have the Caponata from Eggplant, a very well-known and traditional dish, made with vegetables and in its variant with fish. Then we have the pasta and Broccoli, a poor and ever-present dish, Fish Cous Cous, the Squarato Bread, passed in boiling water before being baked and topped in "tip" or fennel seeds.
As per sweet dishes, the Sfinci are worth trying. It is a very complex dessert to prepare but whose ingredients are only flour, water and yeast, fried and covered with sugar.
What's the sea like in Marsala?
The Marsala coast is wonderful, as it is full of coves and natural inlets and sandy beaches, white washed by a blue crystalline sea.
Among the most beautiful beaches, we recommend Punta Tramontana, a very long beach with shallow waters, within the Stagnone Reserve. We also recommend San Teodoro , also inside the Reserve, characterized by white sand and by the islet, reachable on foot at low tide.
Then there is the Lido Signorino beach perfect for those who do not want to give up any comfort, as it offers several bathing establishments that offer all the services to enjoy a day at the beach full of relaxation and fun.
The cost for your private transfer from Palermo aeroporto TO Marsala IS STARTING FROM 90,00 €
Don't know what activities to do during your holiday?
Book a wonderful excursion in Sicily today
Why book with Sorrentino Transfer
Support 24hrs, 7 days a week
Free cancellation up to 24h before
Instant booking confirmation
Do you need help?
For any questions or for information and reservations, do not hesitate to contact us addresses, we will be happy to help you!