Transfer Palermo Selinunte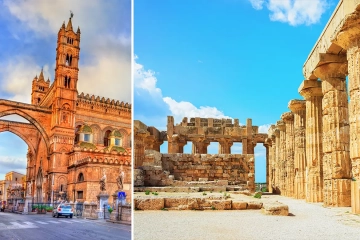 Among the most ancient and historical destinations to visit in western Sicily, there is the beautiful Selinunte, an ancient Sicilian city with the largest archaeological park in Europe. To visit this splendid location we offer a comfortable Transfer Palermo Selinunte, which from Palermo airport will take you to the ancient city.
Palermo airport is the closest airport together with Birgi airport, which allows you to reach Selinunte quickly and easily. It is about 100km away and in 1 hour and 15 minutes you will arrive at your destination, with a wonderful view of the Sicilian coast that will accompany you during the journey.
How long does it take to visit Selinunte
Selinunte is very extensive, and it is estimated that an independent visit can last up to 3 or 4 hours.
The duration may vary based on various factors, such as if you intend to visit only part or all of the park, on foot or with the help of an electric car.
You can decide either to visit it alone, independently choosing the attractions to visit with the help of the map, or with a tour guide, who will accompany you to all the points of interest in the park, telling you all the details, legends and stories that are hardly available elsewhere.
Whichever way you decide to visit it, it is absolutely worth it!
Ready to go? Book your transfer now! Book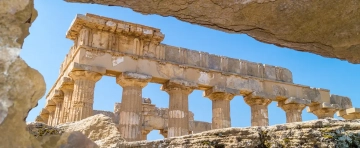 How many temples are there in Selinunte?
In the territory of the Archaeological Park of Selinunte we can identify 7 distinct areas, each of which preserves the memory of the greatness of the ancient Sicilian city.
Some of the temples are in a good state of preservation, which were built on the basis of a rigorous Doric order, which is the oldest Greek architectural style.
The areas are divided into Acropolis, the Pianoro di Manuzza , the Collina Orientale Sanctuary , the Collina del Gaggera , the Artisan District , the Byzantine Baptistery and the Cusa Quarries .
A natural wonder that encompasses history, legend and culture in a single place covered with magic and imagination
The cost for your private transfer from Palermo TO Selinunte is starting from 150,00 €
Don't know what activities to do during your holiday?
Book a wonderful excursion in Sicily today
Why book with Sorrentino Transfer
Support 24hrs, 7 days a week
Free cancellation up to 24h before
Instant booking confirmation
Do you need help?
For any questions or for information and reservations, do not hesitate to contact us addresses, we will be happy to help you!