Transfer from Palermo airport to San Vito lo Capo
Among the most popular destinations in western Sicily, especially in the summer period of June, July and August, there is the beautiful seaside resort of San Vito lo Capo, a village characterized by its crystal clear waters and wonderful unspoiled nature. To visit this splendid location we offer a comfortable Palermo airport San Vito lo Capo transfer.
Palermo airport is the closest airport together with Trapani, which allows you to reach San Vito lo Capo quickly and easily. It's about 85km away and in 1 hour and 30 minutes you will arrive at your destination, with a wonderful view of the Sicilian coasts that will accompany you during the journey.
What to do in San Vito Lo Capo
Start your holiday in San Vito lo Capo, and in order not to miss the most beautiful attractions of the country, we recommend all the activities to do and the attractions to see during your stay in this small Sicilian village.
Once in town with the Transfer San Vito lo Capo Palermo, you will find the central Via Savoia to welcome you, full of bars, clubs and restaurants, where we recommend you to eat the Cous Cous alla Trapanese , a traditional fish-based dish. Walking along this street, you will find the main square, where the Sanctuary of San Vito Martire stands, the oldest structure in the city, which timidly reveals the legend of how the town was born.
We recommend that you spend a day in total relaxation aboard a mini-cruise that will take you along the west coast, where you can see the beautiful Zingaro Reserve, Scopello, Castellammare del Golfo or the evocative Egadi Islands by sea. During your day on the boat you can snorkel or dive in the splendid crystal clear waters, ending your day with a regenerating swim at sunset .
If you love walking, you can go trekking in the Mediterranean nature that the area offers you, such as the Oriented Nature Reserve of the Zingaro and the Reserve of Monte Cofano, Monte Monaco, Monte Paso del Lupo or to the Grotta dei Cavalli.
Ready to go? Book your transfer now! Book
How is the sea in San Vito lo Capo and which is the most beautiful beach?
We do not think it is a coincidence that San Vito is famous mainly for its Caribbean beaches.
The sea is characterized by crystalline waters all along the coast, with shallow waters and currents almost always absent, making it a perfect beach especially for families with children, who can play safely on the shore and without risk. The water takes on a thousand colors nuances, from blue to emerald green, and the temperature is very pleasant throughout the summer season, resulting a little cooler in the months of May, June and September.
It is difficult to say with certainty which is the most beautiful beach in San Vito lo Capo, since every glimpse of this land shows priceless beauties, but we can affirm that the coves in the Gulf of Macari offer truly unique emotions. You can choose whether to lie down on the golden sand, on the pebbles or even take a dip from the cliff. An unforgettable experience.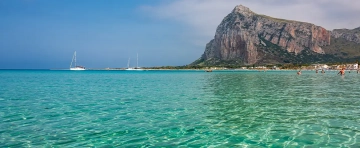 How to get around San Vito lo Capo without a car
San Vito lo Capo is a fairly small village, which you can easily visit on foot. It is also quite flat, so it won't be tiring either.
Among the most popular vehicles there are the Scooters , which allow you to move easily and fast through the neighboring areas. You can also opt for the bicycle, with which you can get anywhere while keeping fit and experiencing the country in a very different way.
You will not have to worry about the car, you can still rent it, but it is not an indispensable way to experience the country in its total beauty, including the surrounding areas!
What is the best time to go to San Vito lo Capo?
San Vito lo Capo is famous mainly for its Caribbean beaches and its unspoiled nature, but it actually offers much more than that.
The hottest months of the year are July and August , when there is also the highest number of visitors, with crowded beaches and often busy streets. On the contrary, the months of May, June and September are very hot and allow you to spend wonderful and quiet days at sea with the cleanest beaches ever.
If, on the other hand, you prefer to experience nature, we recommend that you come in the months of March, April, October and November, when the colors of autumn and spring transform our mountains into a truly indescribable site.
For peace, quiet and total relax, the perfect months are December, January and February , when only its few inhabitants remain in the country and the only sound you will hear will be that of the waves breaking on the coast.
At any time of the year you want to come, your transfer from Palermo to San Vito lo Capo with Sorrentino Transfer will always be guaranteed!
The cost for your private transfer from Palermo airport to San Vito Lo Capo is starting from 120,00 €
Don't know what activities to do during your holiday?
Book a wonderful excursion in Sicily today
Why book with Sorrentino Transfer
Support 24hrs, 7 days a week
Free cancellation up to 24h before
Instant booking confirmation
Do you need help?
For any questions or for information and reservations, do not hesitate to contact us addresses, we will be happy to help you!